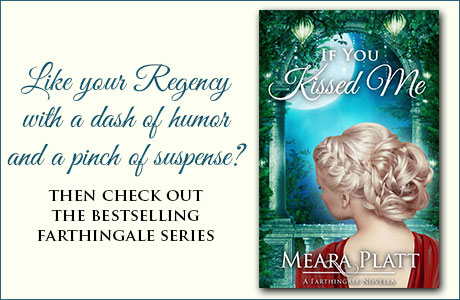 For a Limited Time!
Get a FREE copy of If You Kissed Me, an exclusive Farthingale novella.
Lady Evangeline Cameron, granddaughter of the powerful Duke of Lotheil, has spent the last three seasons holding out for love and now despairs of ever finding it. The gentlemen who flock to her are more interested in her wealth and family connections, and the only man she dreams about, George Farthingale, has yet to show her any romantic interest. But Evie is ever hopeful that her dreams may come true, if only George would kiss her.
Dr. George Farthingale is quite comfortably settled in his bachelor life and is not seeking to change a thing about it until Evie Cameron comes along and suddenly makes him yearn for something more. Wanting Evie is ridiculous, for she's the granddaughter of a duke and George is a mere doctor, a Farthingale, no less, and the ton doesn't quite know what to make of him and his boisterous family. One thing George does know is that he can never kiss Evie, no matter how desperately he wishes to take her in his arms and claim her heart forever.


Welcome! I can't believe that by late October 2016, I will have been published two years! My Fair Lily is the book that started it all and I'm delighted to report that Lily and Ewan and his faithful sheepdog Jasper will all make a prominent appearance in one of my upcoming books and I can't wait to tell you all about it in the coming months. But September is Rose Farthingale's month and I'm so excited for The Viscount's Rose release on September 19, 2016. You know these Farthingale girls can't keep out of trouble, so it will come as no surprise that Rose has abducted Lord Julian Emory and isn't quite certain what do now that she's unexpectedly trapped in the old hunting lodge along with him. As a storm overhead unleashes it fury, will Rose and Julian's passion unleash as well?
What else is coming up in September 2016? A trip to the Historical Romance Retreat and more historical romances, of course! There will be more books in my Farthingale Regency romance series. If you haven't read them yet, start anywhere. They're all stand alone stories and I love to hear from my readers, so please let me know if any one in particular was a favorite of yours. Released earlier this year, in February 2016, was A Midsummer's Kiss which is the story of Laurel Farthingale and Graelem Dayne, the Scottish baron who needs to marry by Midsummer's Day or lose a vast inheritance. When he tricks Laurel into a betrothal, he gets more than he bargained for. Graelem is Gabriel Dayne's cousin, and you met rakehell Gabriel and good girl Daisy Farthingale in Rules For Reforming A Rake released in May 2015.
In the e-book versions of the Farthingale series you'll find a link to a complimentary Farthingale novella called If You Kissed Me, written as a thank you to all of you who helped make all the books in this series bestsellers! I loved writing Lily Farthingale and her identical twin sister Daffodil (known as Dillie to her friends and family - her story is The Duke I'm Going To Marry). Bluestocking Lily finds her sexy Scot, Ewan Cameron, and Dillie manages to gain the notice of the cynical duke, Ian Markham. He's determined never to marry, but we know how that will turn out now that he's met Dillie.
Coming in early 2017 is a second romantic fairy tale box set to follow our very popular Once Upon A Regency. My contribution to that first set was a Regency romance based on Sleeping Beauty that will soon be released on its own as The May Fair Princess (it was called Wish Upon A Kiss in that set). Also to be released in early 2017 will be the first book in my historical romance paranormal Garden series. I'm a sucker for handsome dukes, medieval knights, and mythical creatures of any kind (Fae kings and Dragon Lords), and I love those mysterious, ancient prophecies. I can't wait to tell you about the Draloch prophecy and the innocent Regency heroine caught in the middle of a battle between kingdoms.
For me, the fun part about writing is to create the perfect heroine for each of my heroes, to imagine a woman with the heart to love them, the brains to outwit them, and the courage to save them from enemies and often from themselves. The romances I write are historical fiction, but the themes are timeless and universal, about the importance of family, of finding one's inner strength, of forgiveness and kindness, and the magic of romance.
"My Fair Lily is a bona fide page-turner, a delightful Regency historical romance that will leave you clamoring for more from this exciting debut author."

~ Patricia Ryan, USA Today Bestselling Author of Medieval and Contemporary Romance