My Fair Lily

London is never the same after the boisterous Farthingales move into their townhouse on Chipping Way, one of the loveliest streets in fashionable Mayfair. With five beautiful daughters in residence, the street soon becomes known as a deathtrap for bachelors.

Amazon | Barnes & Noble | iBooks | Kobo | BAM





The audiobook version of My Fair Lily is available now. Listen to a free preview by clicking the play button in the audio player below.

Your browser does not support the HTML5 Audio element.
The Duke I'm Going to Marry

Daffodil Farthingale, known as Dillie to her friends and family, is horrified to learn the man she has just rescued from ruffians outside the Farthingale townhouse is none other than Ian Markham, the notorious Duke of Edgeware. If the Chipping Way bachelor curse holds true, she's doomed to marry the wretched rakehell. Dillie wants a man who will love her and be faithful in the marriage. The duke will never do, for he harbors secret torments and has sworn he will never fall in love or marry.

Amazon | Barnes & Noble | iBooks | Kobo | BAM
Rules for Reforming a Rake

Daisy Farthingale protected her sister by taking blame for a scandalous incident that occurred during her sister's debut season and now embarks upon her own entrance into society with a slight tarnish to her reputation. No one trusts her judgment when it comes to men, but Daisy is determined to redeem herself in the eyes of her beloved family by marrying the most honorable man she can find...

Amazon | Barnes & Noble | iBooks | Kobo | BAM
A Midsummer's Kiss

Sometimes love happens at the most unexpected times and in the most unexpected places. Sometimes it quietly sneaks up on you, and sometimes it knocks you over on a London street, just as it happens to Lord Graelem Dayne when Laurel Farthingale's horse runs him over and breaks his leg. Graelem has until Midsummer's Day, a mere thirty days away to find a wife or lose a large inheritance, so when a remorseful Laurel begs his forgiveness and promises to do anything, anything for him, he takes her up on that promise and insists that she marry him.

Amazon | Barnes & Noble | iBooks | Kobo | BAM
The Viscount's Rose

Abducting your best friend's brother is never a good idea! Unfortunately, Rose Farthingale has no choice.

She is indebted to Julian Emory, the handsome viscount who saved her life, and now his sister is desperate to save him from the clutches of the scheming countess he is about to marry. How can she disappoint her best friend? Farthingales are no strangers to mischief, but Rose never expects to be abducted along with Julian or to fall in love with him over the course of their captivity. Will he ever forgive her once he discovers she is behind this scheme?

Amazon | Barnes & Noble | iBooks | Kobo | BAM
Earl of Hearts

Love comes to those who need it most.

What will happen when an earl determined never to love meets the only woman who can tear down his defenses?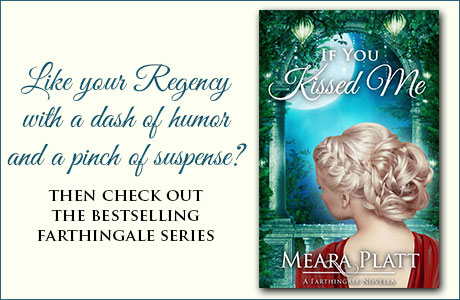 For a Limited Time!
Get a FREE copy of If You Kissed Me, an exclusive Farthingale novella.
Lady Evangeline Cameron, granddaughter of the powerful Duke of Lotheil, has spent the last three seasons holding out for love and now despairs of ever finding it. The gentlemen who flock to her are more interested in her wealth and family connections, and the only man she dreams about, George Farthingale, has yet to show her any romantic interest. But Evie is ever hopeful that her dreams may come true, if only George would kiss her.
Dr. George Farthingale is quite comfortably settled in his bachelor life and is not seeking to change a thing about it until Evie Cameron comes along and suddenly makes him yearn for something more. Wanting Evie is ridiculous, for she's the granddaughter of a duke and George is a mere doctor, a Farthingale, no less, and the ton doesn't quite know what to make of him and his boisterous family. One thing George does know is that he can never kiss Evie, no matter how desperately he wishes to take her in his arms and claim her heart forever.