Warning
: include(books_nav.php) [
function.include
]: failed to open stream: No such file or directory in
D:\Inetpub\mearaplatt\books.php
on line
6
Warning
: include(books_nav.php) [
function.include
]: failed to open stream: No such file or directory in
D:\Inetpub\mearaplatt\books.php
on line
6
Warning
: include() [
function.include
]: Failed opening 'books_nav.php' for inclusion (include_path='.;c:\PHP5') in
D:\Inetpub\mearaplatt\books.php
on line
6
"My Fair Lily is a bona fide page-turner, a delightful Regency historical romance that will leave you clamoring for more from this exciting debut author. . . . Gruffly gallant Ewan Cameron, Laird Carnach, and Lily Farthingale, the pretty young English bluestocking he struggles to resist, are perfect romantic foils. I didn't want My Fair Lily to end!"

~ Patricia Ryan, USA Today Bestselling Author of Medieval and Contemporary Romance
A Midsummer's Kiss
Coming February 2016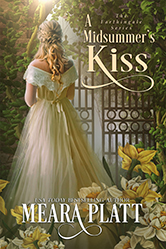 Sometimes love happens at the most unexpected times and in the most unexpected places. Sometimes it quietly sneaks up on you, and sometimes it knocks you over on a London street, just as it happens to Lord Graelem Dayne when Laurel Farthingale's horse runs him over and breaks his leg. Graelem has until Midsummer's Day, a mere thirty days away to find a wife or lose a large inheritance, so when a remorseful Laurel begs his forgiveness and promises to do anything, anything for him, he takes her up on that promise and insists that she marry him.
Laurel Farthingale has no intention of becoming Graelem Dayne's biddable bride and is furious that he's tricked her into a betrothal. She plans to marry another, her long-time friend and childhood infatuation who is now in London to propose to her, for she's a Farthingale and everyone knows that Farthingales only marry for love. But as she comes to know Graelem, she realizes that he may very well be the man she's destined to love. Can he ever love her above his desire to secure his baronial fortune?

Nobody's Angel
Nobody's Angel is a novella written as part of a very special event, the first ever Kindle Worlds historical romance site for USA Today Bestselling author Kathryn Le Veque's historical romance fan fiction World of the de Wolfe Pack. I was honored to be a part of the launch of this site that includes stories from bestselling romance authors who write in time periods that span from medieval ages to Regency/Victorian to contemporary. Nobody's Angel is a fun story that blends together my Regency characters and the medieval warrior ancestors of Kathryn's Wolfe Pack clan.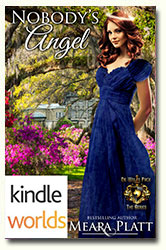 Letitia Beresford, daughter of the Earl of Beresford, has always been able to hear her guardian angel, but understanding him is quite another matter when he only speaks in riddles. Now he's warned Lettie that her soul mate and the only man who will ever make her happy, will disappear from her life forever unless she acts quickly. Lettie is willing to find him, but who is he? Her angel won't tell her, and now she's botched the search, ruining her best friend's engagement party and infuriating everyone, including her parents who decide to ship her off to family in Wrexham until the fuss dies down. Her best friend's adoptive brother, Brynne, a foundling left on her neighbor's doorstep as an infant, is assigned to escort Lettie. Along the journey, Lettie realizes that Brynne is her soul mate, and to prove it to cynical Brynne, she promises him that she will discover his true lineage.

Rules for Reforming a Rake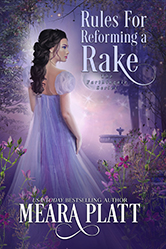 Daisy Farthingale protected her sister by taking blame for a scandalous incident that occurred during her sister's debut season and now embarks upon her own entrance into society with a slight tarnish to her reputation. No one trusts her judgment when it comes to men, but Daisy is determined to redeem herself in the eyes of her beloved family by marrying the most honorable man she can find... unfortunately, she finds herself falling in love with London's most notorious rakehell, Lord Gabriel Dayne, a disreputable wastrel who may be spying for the French! What's a girl to do? Fortunately, Daisy has gotten her hands on Lady Forsythia Haversham's Rules for Reforming a Rake.

The Duke I'm Going to Marry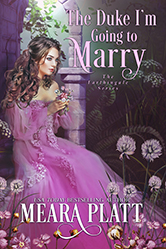 Dillie Farthingale is horrified to learn the man she has just rescued from ruffians outside the Farthingale townhouse is none other than the notorious Duke of Edgeware. If the Chipping Way bachelor curse holds true, she's doomed to marry the wretched rakehell. But when Dillie finds herself trapped with the duke in the same charming inn during a torrential rainstorm, she discovers that falling in love with the duke might not be a curse after all.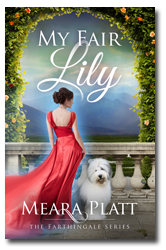 My Fair Lily
My Fair Lily by author Meara Platt is the story of what happens in Regency England when a loveable Scottish sheepdog tries his hand at matchmaking. Only problem is that his owner, Ewan Cameron, a proud and stubborn Scot, refuses to admit that the beautiful English bluestocking, Lily Farthingale, is obviously meant for him.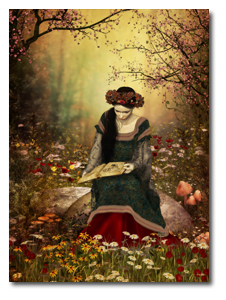 The Farthingale romances continue with stories for Daffodil, Daisy, Laurel and Rose.

The Paranormal Garden series begins in 2016 with Cadeyrn's story.