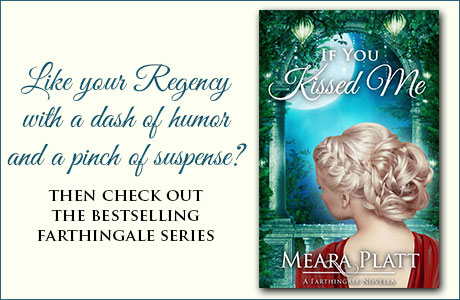 For a Limited Time!
Get a FREE copy of If You Kissed Me, an exclusive Farthingale novella.
Lady Evangeline Cameron, granddaughter of the powerful Duke of Lotheil, has spent the last three seasons holding out for love and now despairs of ever finding it. The gentlemen who flock to her are more interested in her wealth and family connections, and the only man she dreams about, George Farthingale, has yet to show her any romantic interest. But Evie is ever hopeful that her dreams may come true, if only George would kiss her.
Dr. George Farthingale is quite comfortably settled in his bachelor life and is not seeking to change a thing about it until Evie Cameron comes along and suddenly makes him yearn for something more. Wanting Evie is ridiculous, for she's the granddaughter of a duke and George is a mere doctor, a Farthingale, no less, and the ton doesn't quite know what to make of him and his boisterous family. One thing George does know is that he can never kiss Evie, no matter how desperately he wishes to take her in his arms and claim her heart forever.

To subscribe to my mailing list, please fill out the form on this page.