Book 5 - Garden of Angels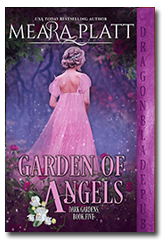 The Stone of Draloch has prophesied a great war within the five underworld realms, pitting the Dragon Lords against each other. Dragon Lord Mordain must choose which side to take, that of the powerful High King Brihann who has now raised an army of the darkest forces ever to exist, or that of Dragon Lord Bloodaxe and his brother, Saron, the Duke of Draloch, who are the two black dragons desperately fighting to save their world and those of man and Fae. The pull toward darkness is strong in Mordain, for he is the son of the Fallen Angel. But there is a mysterious mortal girl who has entered his life, and the tug of love is perhaps stronger than any dark force in existence. But who is Aideen Pengalon, this girl whose name means little fire? Will she be the one to destroy him or is she destined to be his salvation?
Aideen Pengalon grew up in a Yorkshire orphanage and has no idea who she is or where she belongs, but it cannot possibly be in the arms of Lucien Mordain, a dragon shifter duke of the underworld who claims she is an angel and has powers greater than his own. The Stone of Draloch has shown her the future and in it she is killing Lucien. How can this be? Her heart cries out for him, the mighty red dragon who rules one of the five underworld realms. He calls her little fire and insists he will never harm her because she is his dragon mate and their souls are bound to each other.
But how can he ignore what the Stone of Draloch has shown them? Will her love for Lucien be enough to change the course of his dark destiny?