"My Fair Lily is a bona fide page-turner, a delightful Regency historical romance that will leave you clamoring for more from this exciting debut author. . . . Gruffly gallant Ewan Cameron, Laird Carnach, and Lily Farthingale, the pretty young English bluestocking he struggles to resist, are perfect romantic foils. I didn't want My Fair Lily to end!"

~ Patricia Ryan, USA Today Bestselling Author of Medieval and Contemporary Romance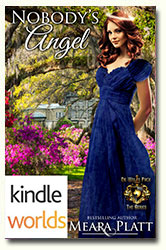 Nobody's Angel
Nobody's Angel is a novella written as part of a very special event, the first ever Kindle Worlds historical romance site for USA Today Bestselling author Kathryn Le Veque's historical romance fan fiction World of the de Wolfe Pack. I was honored to be a part of the launch of this site that includes stories from bestselling romance authors who write in time periods that span from medieval ages to Regency/Victorian to contemporary. Nobody's Angel is a fun story that blends together my Regency characters and the medieval warrior ancestors of Kathryn's Wolfe Pack clan.
Letitia Beresford, daughter of the Earl of Beresford, has always been able to hear her guardian angel, but understanding him is quite another matter when he only speaks in riddles. Now he's warned Lettie that her soul mate and the only man who will ever make her happy, will disappear from her life forever unless she acts quickly. Lettie is willing to find him, but who is he? Her angel won't tell her, and now she's botched the search, ruining her best friend's engagement party and infuriating everyone, including her parents who decide to ship her off to family in Wrexham until the fuss dies down. Her best friend's adoptive brother, Brynne, a foundling left on her neighbor's doorstep as an infant, is assigned to escort Lettie. Along the journey, Lettie realizes that Brynne is her soul mate, and to prove it to cynical Brynne, she promises him that she will discover his true lineage.
Brynne has been in love with Lettie for as long as he can remember, but how can a foundling ever hope to marry an earl's daughter? The only hint to his identity is the birthmark on his shoulder in the shape of a wolf. After all these years and no one stepping forward to claim him, Brynne knows it will take a miracle to discover the truth. Brynne doesn't believe in miracles, nor does he intend to remain in England. He has always been alone in the world and knows he is nobody's angel. With less than two weeks before Brynne leaves her forever, can Lettie discover Brynne's identity and prove that love is the greatest miracle of all?

Purchase Nobody's Angel at