"My Fair Lily is a bona fide page-turner, a delightful Regency historical romance that will leave you clamoring for more from this exciting debut author. . . . Gruffly gallant Ewan Cameron, Laird Carnach, and Lily Farthingale, the pretty young English bluestocking he struggles to resist, are perfect romantic foils. I didn't want My Fair Lily to end!"

~ Patricia Ryan, USA Today Bestselling Author of Medieval and Contemporary Romance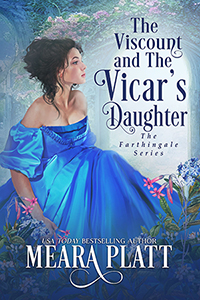 The Viscount and The Vicar's Daughter
He needs to find a wife. She has agreed to help him. Neither of them expected his search to lead straight back to her.
Enjoy this hilarious, bestselling Regency series.
Wealthy, titled and handsome, Alexander Dayne, third Viscount Ardley, is much sought after among the ton. As heir to an earl, and widowed a few years now, he is pressured by his family to find himself a wife. But he detests London society and knows he will be set upon by all the hopeful young ladies the moment he enters the marriage mart. So why not remain at Ardley Hall, select a few prospects, and hold a weekend house party? He knows just the person to help him in his planning, the eminently sensible vicar's daughter, Viola Ruskin. But now that the plans are set and the party is underway, he realizes it is Viola who has stolen his heart. How can he convince her they are meant for each other when scandal interferes, and she is afraid to trust him?
Viola Ruskin agreed to help Alexander Dayne find himself a wife in exchange for his promise to help her find a respectable position in an upper-class household when the time comes. Her father is dying and she will soon be all alone in the world. Not only alone but homeless once the new vicar arrives and boots her out of the vicarage. However, she is a skilled cook and has agreed to prepare the elaborate meals for Alexander's house party as well as assist him in selecting potential brides in the hope he will find her proper employment. She has secretly loved him forever, but how can a viscount ever fall in love with a vicar's daughter? What chance do they have at a successful marriage when the ton and commoners play by different rules?

Purchase The Viscount and The Vicar's Daughter: