"My Fair Lily is a bona fide page-turner, a delightful Regency historical romance that will leave you clamoring for more from this exciting debut author. . . . Gruffly gallant Ewan Cameron, Laird Carnach, and Lily Farthingale, the pretty young English bluestocking he struggles to resist, are perfect romantic foils. I didn't want My Fair Lily to end!"

~ Patricia Ryan, USA Today Bestselling Author of Medieval and Contemporary Romance
Marigold and the Marquess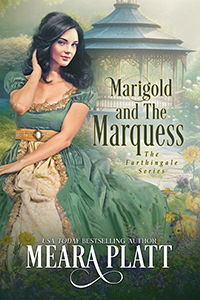 He is ruthless, reclusive, and out for revenge. She is sweet, innocent, and irritatingly cheerful. Why can't she leave him to his darkness? And why can't he keep his hands off this beautiful Farthingale?
Enjoy the next offering in the humorous, best selling Regency series - welcome to Chipping Way as another bachelor is about to fall in love with one of the strikingly beautiful Farthingales.
Leonides Poole, the Marquess of Muir is a much-admired agent of the Crown. He has just returned to London after spending the last four years imprisoned in an enemy dungeon. Now that he has been released, he is determined to find the man who betrayed him and exact his revenge. The problem with his well-crafted plan is his unexpected feelings for Marigold Farthingale, the little ray of sunshine who lives next door to him on Chipping Way. She seems to understand ancient skulls and bones more than she understands men. Yet, Leonides knows if he exacts his vengeance, he will lose out on the promise of happiness with the beautiful bluestocking. Which does he value more? The answer is suddenly not so clear.
Marigold Farthingale is quite excited about the dragon-like animal whose skull she discovered while on archeological exploration in Devonshire. She has now returned to London with a crate full of bones she must deliver to the Huntsford Academy and is delighted when her new neighbor, the fierce and reclusive Marquess of Muir, agrees to assist her. She has never met anyone quite like this handsome man. He is intelligent, fierce, and endowed with a stunning musculature she would love to explore. But he is too tormented to think about courtship and marriage. Marigold is about to make her Society debut. It seems such a fuss when the only man she wishes to marry is the marquess. Perhaps if she discovered his secrets...how dangerous can they be?
Amazon | Barnes & Noble | iBooks | Kobo Books 2 Read | Google Play