"My Fair Lily is a bona fide page-turner, a delightful Regency historical romance that will leave you clamoring for more from this exciting debut author. . . . Gruffly gallant Ewan Cameron, Laird Carnach, and Lily Farthingale, the pretty young English bluestocking he struggles to resist, are perfect romantic foils. I didn't want My Fair Lily to end!"

~ Patricia Ryan, USA Today Bestselling Author of Medieval and Contemporary Romance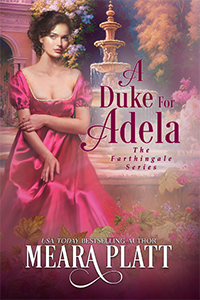 A Duke for Adela
Could a scholarly bluestocking ever win the heart of a duke?
Ambrose Thorne, Duke of Huntsford, is intrigued when Miss Adela Swift, bluestocking and amateur archeologist, barrels over him while chasing the thief who stole her research papers. What starts out as a harmless diversion to assist her in reclaiming her stolen papers manages to embroil them in scandal, and Ambrose realizes he must do the honorable thing and marry Adela. But she's stubborn and not so quick to accept him. Can he convince her that she might love something beyond her ancient skulls and bones, namely him?
Adela Swift's debut Season was an utter disaster and her second is no better until she accidentally knocks over Ambrose Thorne, the Duke of Huntsford. The man is magnificent in every way and London's most sought-after bachelor. He only meant to help her retrieve her stolen notes, but now he is insisting on marrying her. She is madly in love with him, but how can she ever compete with the ton diamonds who swarm around him? Adela wants a love match, not someone who will lose interest in her within a month of their marriage. Is it possible for a scholarly bluestocking like her to ever win the heart of this duke?

Purchase A Duke for Adela :
Amazon | Barnes & Noble | iBooks | Kobo | Books 2 Read