"Fun and mayhem ensues when a Farthingale girl runs into an unsuspecting male." ~ Amazon Reviewer

"The "laugh out loud" humor that is incorporated into these novels make the stories refreshing and fun and the excellent and unusual story lines draw you in, chapter by chapter." ~ Amazon Reviewer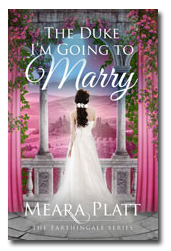 The Duke I'm Going to Marry
Daffodil Farthingale, known as Dillie to her friends and family, is horrified to learn the man she has just rescued from ruffians outside the Farthingale townhouse is none other than Ian Markham, the notorious Duke of Edgeware. If the Chipping Way bachelor curse holds true, she's doomed to marry the wretched rakehell. Dillie wants a man who will love her and be faithful in the marriage. The duke will never do, for he harbors secret torments and has sworn he will never fall in love or marry.
What reviewers are saying...
"Lots of humor, romance and suspense!"

"Sweet and romantic story! Captivating since page one! This story had the right mix of everything, romance, intrigue, suspense, and passion. The story was fast paced, funny and entertaining."

"Platt weaves together a highly entertaining tale of love that pulls you in until you are laughing, crying, and cursing along with the whole Farthingale clan!"
Purchase The Duke I'm Going to Marry:
Purchase The Duke I'm Going to Marry Audiobook:



A Midsummer's Kiss

Sometimes love happens at the most unexpected times and in the most unexpected places. Sometimes it quietly sneaks up on you, and sometimes it knocks you over on a London street, just as it happens to Lord Graelem Dayne when Laurel Farthingale's horse runs him over and breaks his leg. Graelem has until Midsummer's Day, a mere thirty days away to find a wife or lose a large inheritance, so when a remorseful Laurel begs his forgiveness and promises to do anything, anything for him, he takes her up on that promise and insists that she marry him.

What reviewers are saying...

"A wonderful tale of people who are too stubborn to admit they've fallen in love. Fun, humorous, and full of sparks."

"Laurel & Graelem's story is fun, humorous, and genuine."

"Fast paced dialog, with plenty of humor and sexual tension. This could be the best of the series."

Purchase A Midsummer's Kiss:

Purchase A Midsummer's Kiss Audiobook: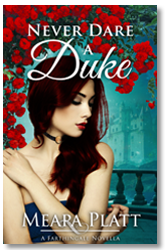 Never Dare a Duke

Frances Cameron ought to be spending the month planning her wedding, but when a casual toast on the night of her betrothal escalates into a battle of the sexes, she finds herself obligated on a dare to spend the next thirty days working closely with the handsome and powerful Duke of Kintyre. In winning the dare, will she also lose her heart to the duke?
Purchase "Never Dare a Duke" here.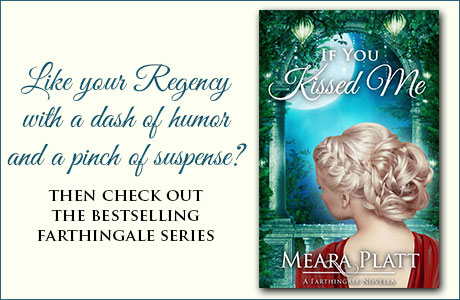 For a Limited Time!
Get a FREE copy of If You Kissed Me, an exclusive Farthingale novella.
Lady Evangeline Cameron, granddaughter of the powerful Duke of Lotheil, has spent the last three seasons holding out for love and now despairs of ever finding it. The gentlemen who flock to her are more interested in her wealth and family connections, and the only man she dreams about, George Farthingale, has yet to show her any romantic interest. But Evie is ever hopeful that her dreams may come true, if only George would kiss her.
Dr. George Farthingale is quite comfortably settled in his bachelor life and is not seeking to change a thing about it until Evie Cameron comes along and suddenly makes him yearn for something more. Wanting Evie is ridiculous, for she's the granddaughter of a duke and George is a mere doctor, a Farthingale, no less, and the ton doesn't quite know what to make of him and his boisterous family. One thing George does know is that he can never kiss Evie, no matter how desperately he wishes to take her in his arms and claim her heart forever.

---






Home | About | Books | Blog | Media | Contact | Mailing List

© Meara Platt